9 days on the Moy
Having just recently returned from a 9 day trip on the Moy I thought I would share a little of it with you.

Day 1, 26 may
.
Having arrived in Ballina with the River running at about 1.6m on the gauge I decided that I would start my trip on the lower river with the rest of the guys on the trip. Although it wasn't what I particularly wanted to do I put in a full day on both worm and spinner with nothing to show for my efforts.
Day 2
.
As the river was now beginning to drop off and the forecast was looking good, with little rain on the way I decided that I would get a 7 day permit for the East Mayo waters as I felt this would give me the best chance of a fish on the fly even though I have never seen or fished these waters before.
I planned to fish the fly only beat and started off at the Gub which is at the lower boundary.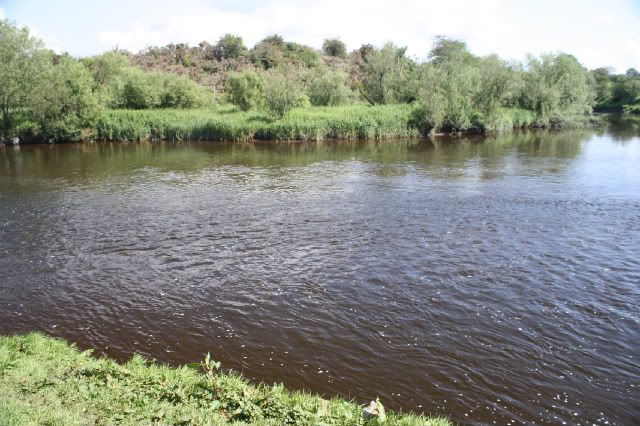 I arrived to find that the river was still a bit big (my opinion) and so once more to the worm. After an hour or so I noticed a guy heading up along the tributary (R.Gweeshan (sp)), which was running in from the right into the Gub, closely followed by 2 other anglers carrying fly rods. As I watched I saw where they crossed and without hesitation I grabbed my fly gear and followed them. I was now heading up river to see what fly fishing delights awaited me. When I eventually caught up with the other anglers I realised that it was our very own Minitube and his clients. After a brisk 15 minute walk we arrived at Roberts' chosen pool.
We had a chat and Robert passed on some tips on which pools to fish and where to concentrate my efforts for which I was extremely grateful.
After Robert and his clients had move on it was now time for me to start.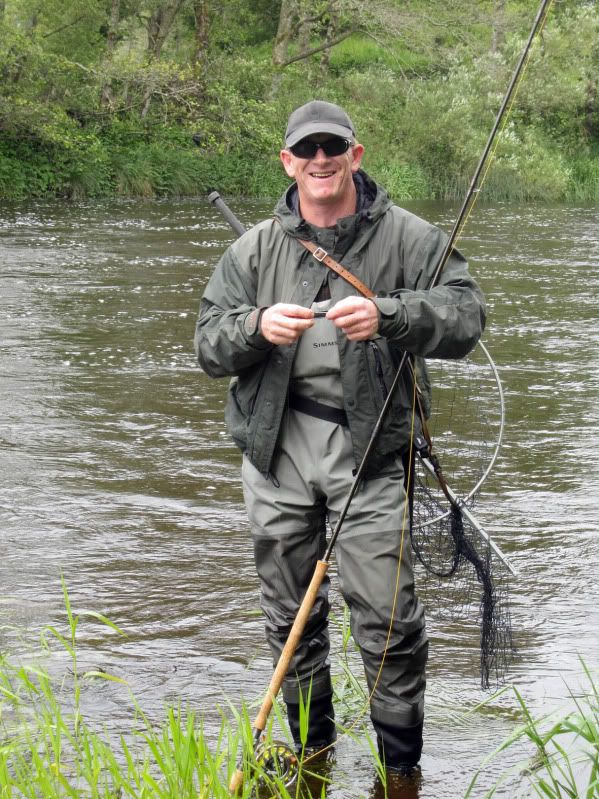 I fished the fly only stretch hard for the next few days despite the strong winds but without success. No matter, the river was in fine condition and there were very few other anglers (I don't like combat fishing), so on we go.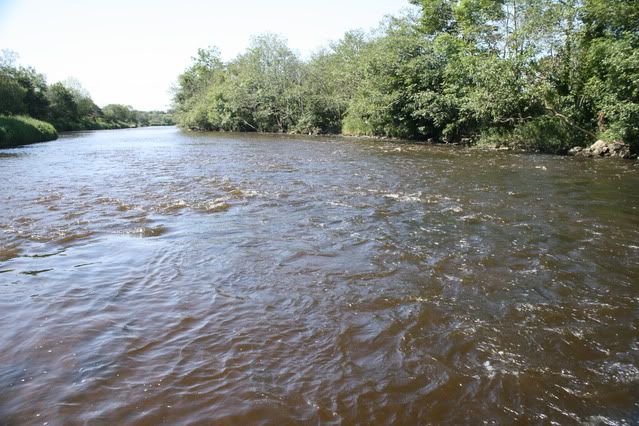 Day 6
.
Having met up with another forum member the day before, it was decided that we would fish further down river and explore the fly opportunities available to us. After 7 hours of fishing down the river with out so much as a pull, we decided to go back to the cars, recharge our batteries and finish off the day on the worm.
Arriving at a pool where I had spotted a fish rising earlier we began running the worms down using the "Moy bung" method. Three casts in and I got my first bite and duly converted it into an absolute cracker of a Springer weighing in at 12lb. Now I am feeling rather happy as you can well imagine, so when I cast in again and get another fish of 9.75lb I am delirious with joy. My companion for the day however, wasn't quite so chuffed for me when the second fish went in the net. HeHe.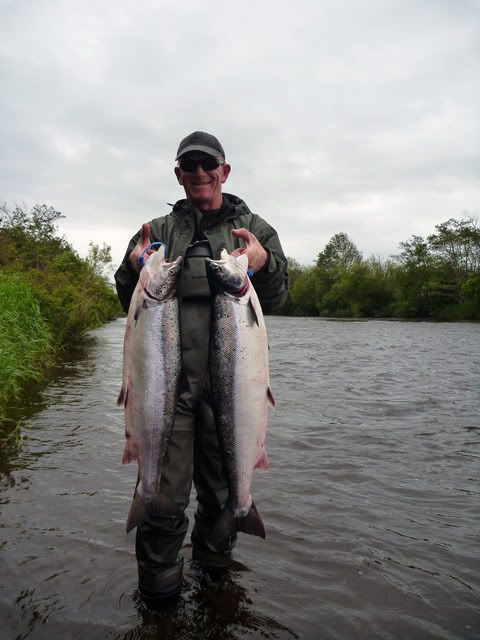 Day 7
.
Spent the morning chasing, dreams of fish, with no joy, so it was decided to finish early and come back later on in the evening and try a new pool where we were informed of some lying fish.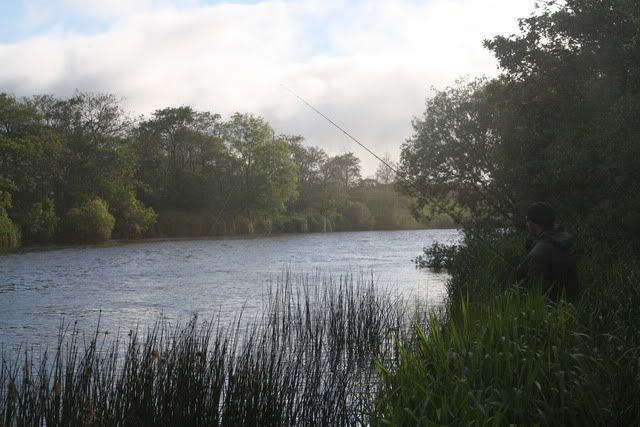 After a couple of hours worming (yes I know) without a touch we noticed what looked like running fish on the move. So we duly upped the concentration levels and began to fish hard once more.
Once again I was rewarded with another fish of 7lb which was covered in long tailed lice, there in confirming our earlier thoughts about running fish.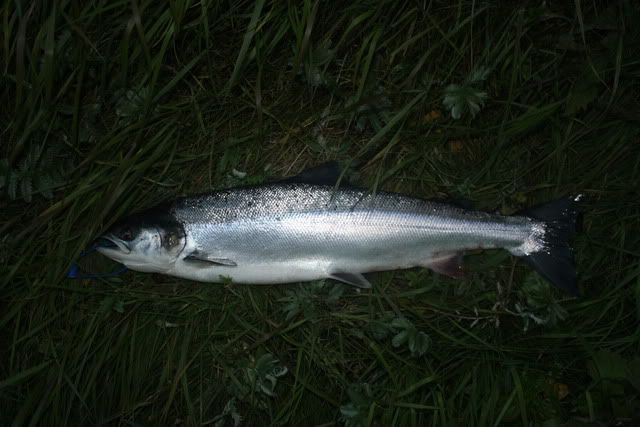 Day 8
.
The sun has come out and and the wind has dropped.
As the conditions were far from ideal it was decided to return to the same pool as we had fished the previous evening but unfortunately we were unsuccessful this time.
Day 9
.
Yet another scorcher of a day.
I decided to take my camera out with me and take a few pictures instead of thrashing the water.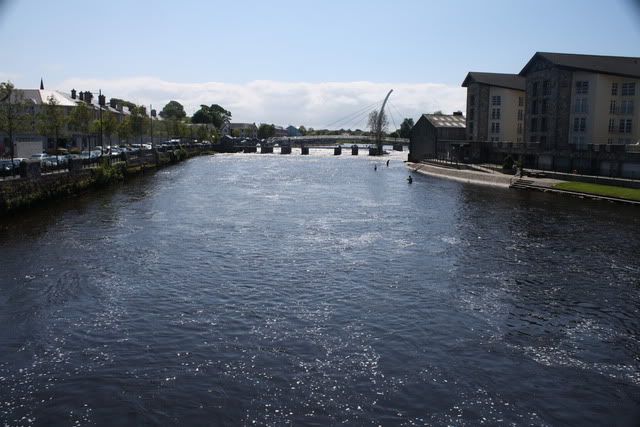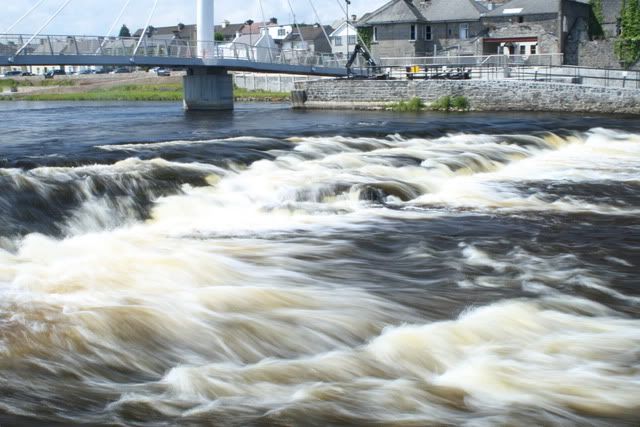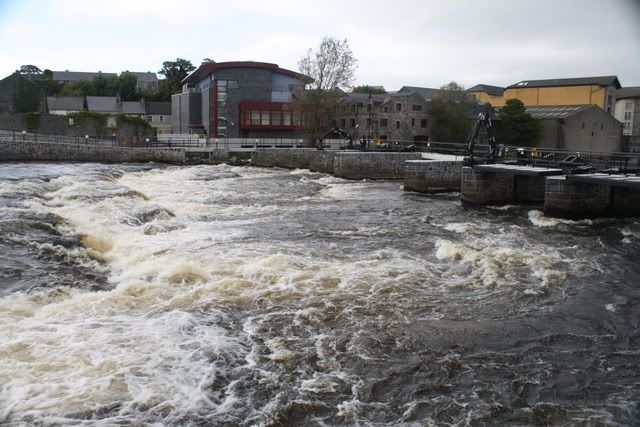 I would like to end with saying thank you to:
Minitube
for his help and advice.
Tiernan Brothers
Michael and Pj For sorting me out with all the little incidentals we all require and for the updates and reports on their website.
Also to say a very big thanks to the forum member I met for being great company, also for netting my fish and not throwing me in.
And finally too my mates for putting up with me for the duration of the trip.
.