Administrator
Staff member
Messages

1,822
Reaction score

710
Location
I saw Andy's post showing himself at 17 with a litter of puppies and I had a thought,
There have been sporadic conversations here between Nancy and I regarding a puppy.
I never said anything here but my friend Boss has been gone now since March 15 of 2019 after completing nearly 14 years of faithful service.
From 2006 until the fall season of 2018 I never went fishing without his company. Needless to say he was well behaved and extremely intelligent, Boss provided security for countless fishermen and women who otherwise would have been consumed by concerns over Brown Bears along these rivers.
Whether it was a woman from Utah State or a man from Switzerland Boss was always moving from person to person as he watched over everyone in a group. He was the epitome of a Watchdog and everyone loved him.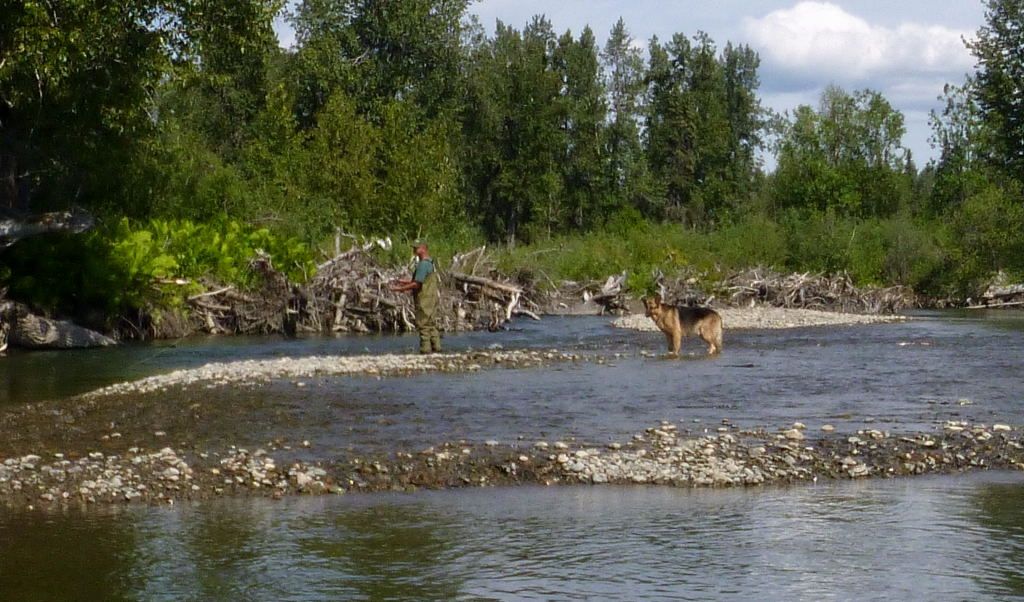 The man fishing in that image was a very unstable wader and Boss somehow knew to stay close.
This fellow is displaying his first fish caught using a 2 hand casting rod, one of my Hardy Swifts and Boss was working his 'Photobomb' skills before I even knew what that meant.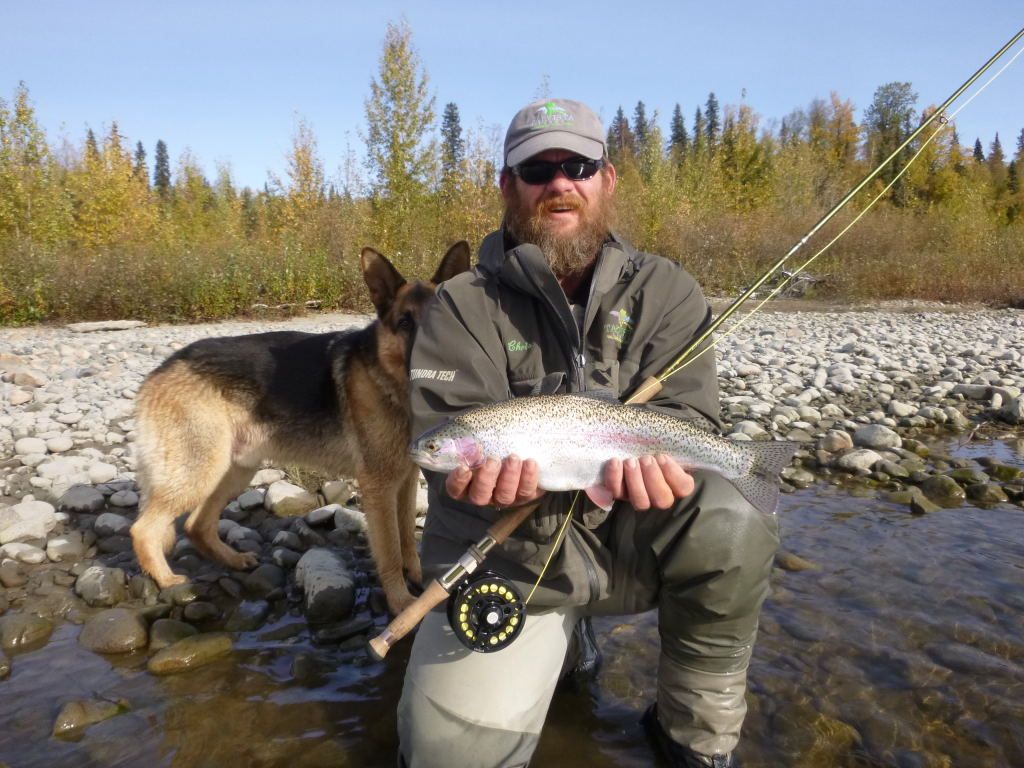 Not just a fair weather friend seen here one October morning after I had to shovel an 8" snowfall out of our boat before we could begin a 91 mile boat trip to get home. Yes I said 91 miles! We had an odd fall with water levels remaining high right up to the big freeze. Otherwise I could never have been all the way out where we were. Should have taken photos of my camp but once you realize that it has snowed a bunch and you are that far from home port you break camp, clear the boat and get with it.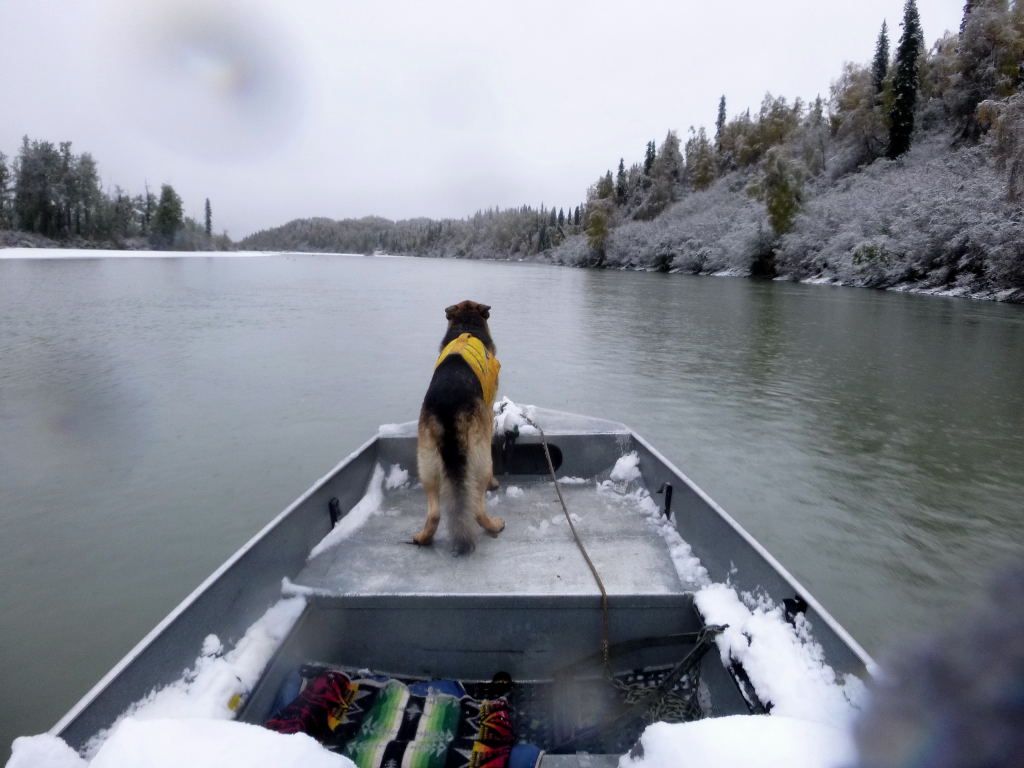 He loved to ride the bow but you can see his wool blanket on the deck behind the dry storage bin so that he could avoid the wind once he tired of being my pilot.
How many thousand miles he traveled by boat or snowmachine I could never guess but easily more than most of the worlds population. Below he is watching as I made ready for a return trip home from the cabin on the cake.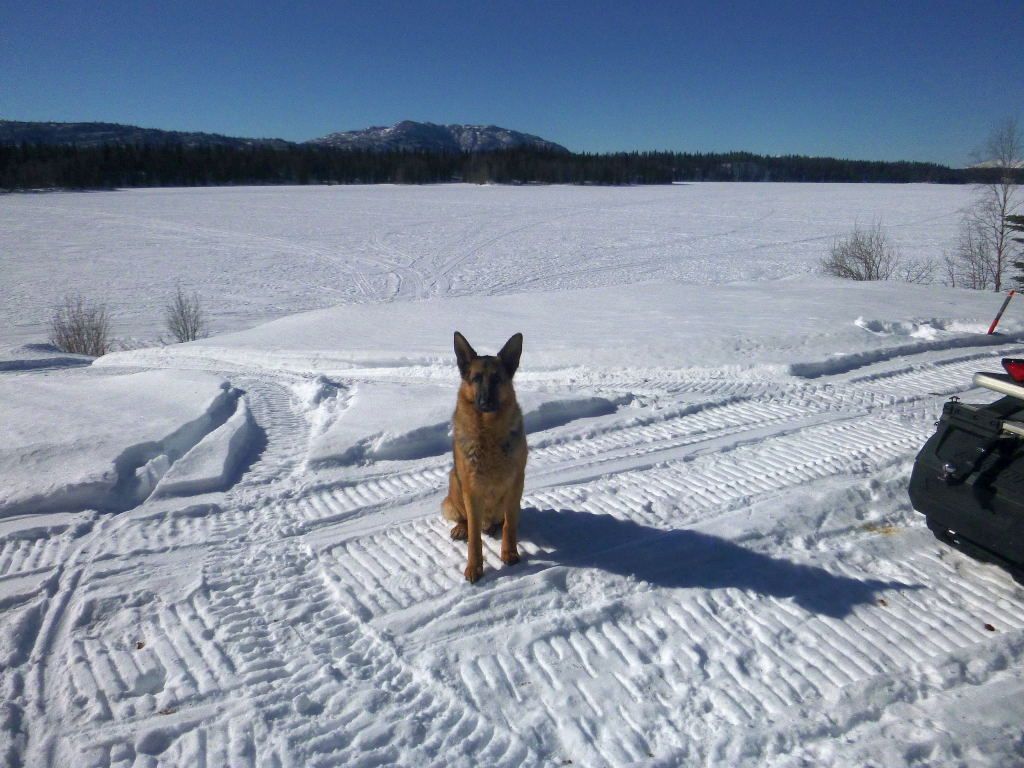 It's going be a tough act to follow but I think I will begin visiting kennels where they have German Shepherd pups soon. The days have been pretty empty without his all knowing gaze on me constantly and I often just sit in my boat anchored on our favorite runs staring at the empty hull without him there. Sometimes I still feel the heat of tears forming on my eyes if I think too much.
From happy camps on sunny days to the night our tent was flattened by an 86 mile per hour storm that came ashore on West Kodiak Island we did it all. The only day in 16 years that I came face to face with a very large Brown Bear who showed an unhealthy interest in me it wasn't just me, it was Boss and I together. He kept his cool and took my commands without delay and in the end I emptied a canister of Bear Spray on the bruin and Boss and I ran off like purse snatchers. We had one heck of a life one adventure after the other.
It was a good life he had, my wife always said that he hit the jackpot when he ended up with me because we were very much alike. I think she was right on that.
Ard