Messages

9,479
Reaction score

230
Friday 27th August saw me traveling out to Helsinki again for another Russia salmon adventure. The river this time was Ponoi and the very famous Ryabaga Camp that was established by Frontiers way back in the 90's. My trip was organised through Frontiers UK office with the help of Steffen Jones. Paperwork, flight documents, visa and all the other admin stuff was fast and efficient so all I had to do was prepare myself.
2 rods, 4 reels a wallet full of various shooting heads and tips and two boxes of flies was my main armoury. I was keen to try a new pattern I devised specifically for this trip, it was named the Ponoi Gold but more of that later.
I traveled from Newcastle on the 09.15 flight to Heathrow then on to Helsinki, arriving at 17.30 local time. The journey was smooth and trouble free, I again stayed at the Hilton at the airport because it is close and very reasonably priced at £83 B&B. At reception I was told that another rod was staying in the hotel so we arranged to meet up for a chat at dinner. Martin was my dinner date and we hit it off like a house on fire, so much so we decided to fish together as everyone is paired two to a boat for the week. This turned out to be a great move as Martin and I had a scream the whole week, the banter and crack was as good as Ive ever had and he was also a very competent fisherman so we fought a very friendly and light hearted battle the whole week.
Here we all are just after touchdown at Ryabaga, being met by the very friendly guides and camp staff.
Our luggage was taken down to the camp by the guides while we descended into the camp via the 'Stairway to Heaven'
Once into the heart of the camp we collected our bags and were swiftly shown to our accomodation.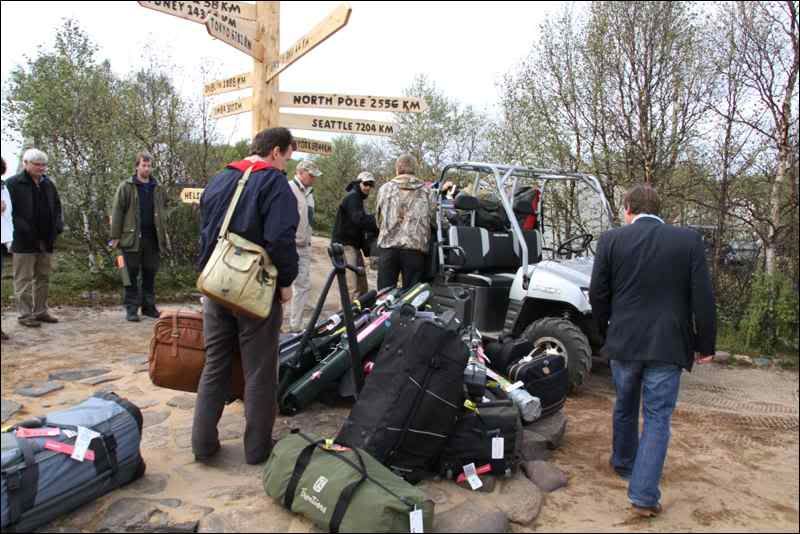 For those who didnt know, Ryabaga is a tented camp. I have to say I was a little apprehensive as to what exactly a tent would be like to live in for a week, I needn't of worried! These are heavy duty and made for the job.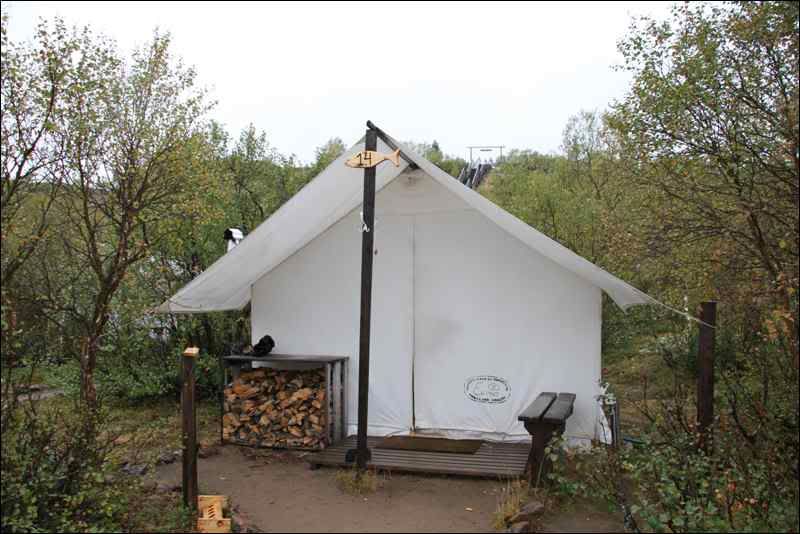 Everything you could need in a room.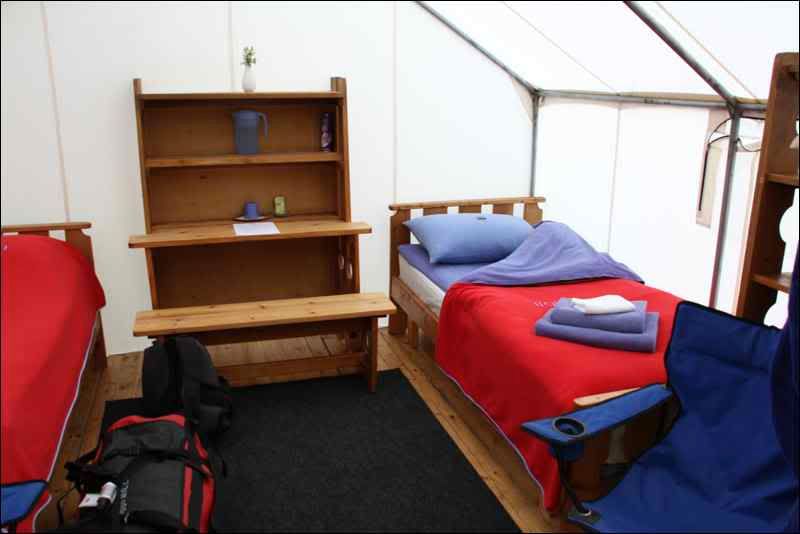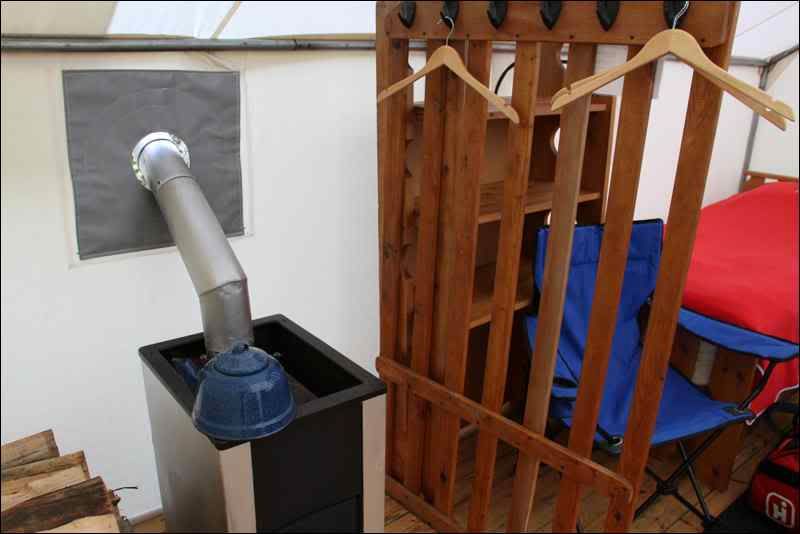 Even a wee chocolate on my pillow every day, shame it wasnt a bar of Dairy Milk though
September in Russia is like October in the UK, the weather was typical of October here and the night time temps dropped to around 3 or 4 degrees most of the time. The heavy duty sleeping bags were perfect and kept you warm enough. Every morning around 6.30am a guide would come to your tent and light the wood burner so by 7am the place was warm and toasty. Sadly for me I was usually down to the home pool long before that so had to made do with being a wee bit chilly while getting dressed. I quickly realised the way to do it was to put my long johns and fleece mid layers in the sleeping bag with me and then put them on inside the bag in the morning, this kept the chill off them and it was like being a kid all over again. Showers are in a block but very clean and comfortable, they even have cotton buds for your ears, something the Helsinki Hilton didnt
After a welcome dinner and a camp briefing we were set free onto the Ryabaga home pool and my word what a pool. I was to become good friends with this stretch of water and until the last evening I never blanked whenever I fished it, sometimes getting 2 or 3 nice fish in an hour before breakfast. I am told this pool can produce over 1000 per season and it isnt that heavily fished during the day.
I managed a few fish that night but to be honest I caught that many fish I am going to strugle to remember them all.
Ryabaga Home Pool
My first Ponoi salmon, not too shabby for starters.
More to follow